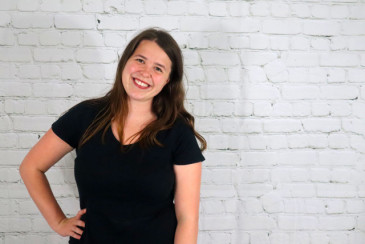 Legacy of Love
After watching one of  Meadowlark's videos, Heidi Fergel wanted to be part of the community. As a military spouse, Heidi was stationed away from family and wanted to make Manhattan feel more like home. She did that and much more, thanks to Meadowlark.
She started by helping at Coffee Corner, then increased her commitment to spend one-on-one time with a resident.Together, they craft, organize the resident's space and do other projects. She's also gotten to escort residents on local trips to the movies and facilitate a cooking class.
"I really love volunteering here," she said. "It's a mutually valuable time. I really value my time seeing the residents and interacting with them and hearing their stories. I can tell they value their time connecting with me. And Meadowlark does an excellent job of taking take of their volunteers. You feel very welcomed there by all the staff and it's really motivating."
Heidi said the major requirements for being a successful volunteer are a positive attitude, attentive listening, and patience. And the rewards are so much greater.
"You can really see the impact you're making by the smiles on the residents faces," she said. "I always feel good when I leave."
---